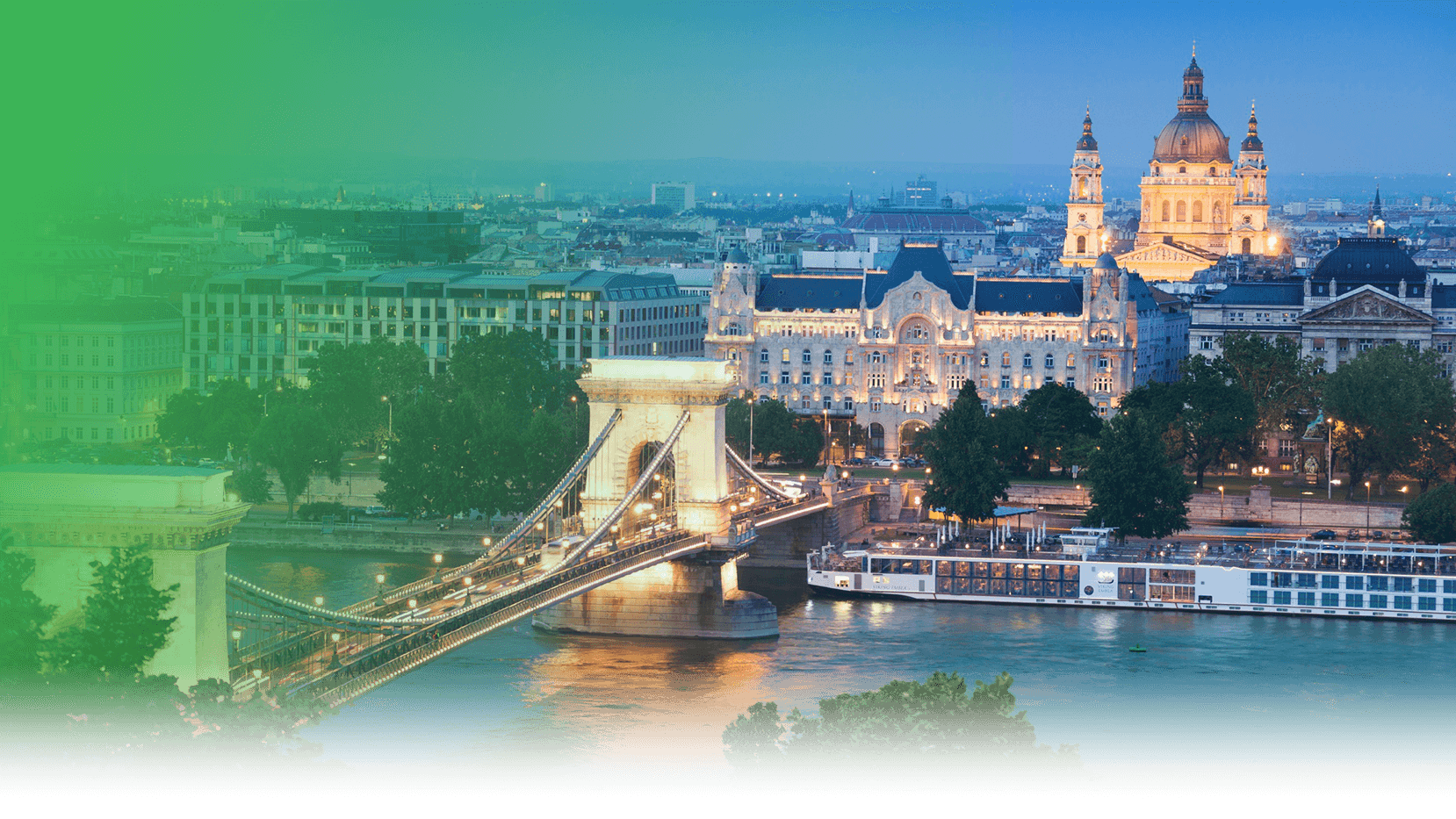 Shooting in Hungary
Why shooting in Hungary is a good idea? Hungary lies in the heart of Central and Eastern Europe, bordered by Slovakia, Ukraine, Romania, Croatia, Slovenia, and Austria. With a population of around 10 million, it is classed as a developed – and safe – country with a high-income economy.
Hungary's capital city, Budapest, is one of the top tourist destinations in Europe today, thanks to its many historical sights, thermal baths, diverse culture, amazing food, great nightlife, and super affordable prices.
However, the Hungarian countryside has more than its fair share of stunning landscapes and sights too. And this is also where the world-famous Hungarian wines are made. Need any more reasons?
Keep reading – we've got plenty!
Some of the many
filming locations
in Hungary
Hungary's capital is an amazing city with great infrastructure and exceptional, extremely varied architecture. With so many different styles of building and urban landscapes, this truly is a city of a thousand faces – a perfect character actor. It's also an enchanting, exciting and fun place to be. During your time here you'll be able to enjoy almost limitless beautiful sights and a wide range of options for spending your free time, from cafes and bars to Turkish baths and more.
Why consider shooting your project in Hungary?
Easy travel (see on the map)
Exceptional locations
Well developed infrastructure
Any climate
English speaking crew
More than 30% tax rebate
Professional equipment
Endless fun
Hungary is easily reachable from all major cities in the world by air, rail or road. Budapest Ferenc Liszt International Airport is an important hub served by the major national and regional airlines. This guarantees that you'll arrive in Budapest in the safety and comfort you're accustomed to, no matter where in the world you start out from.
Once you're here – besides being the perfect place to shoot and work on your production (more about that later) – Budapest is an ideal base for accessing other destinations in Europe and farther afield. As an EU member, Hungary is part of the Single European Travel Area, allowing for seamless movement between countries in the region.
And, with direct flights to the most popular destinations in Europe and beyond, you're only a couple of hours away by plane from plenty of other great locations. In fact, many of the major European capitals are within easy driving distance!
Climate
á la carte
Hot summers, cold winters by default, but we also have everything you need to switch season at a word from the director inside any of the studios.
16 hours
Peak daylight in summer
8.5 hours
Lowest daylight during winter
Everything
within reach.
Hungary's main cities have well developed infrastructure. When it comes to transportation, finding the nicest hotel or obtaining locations permits from local authorities, we can make sure that things go smoothly with no headaches.
Getting around is a breeze, with a network of fast modern motorways, an extensive rail network and excellent transportation in the capital and other big cities.
Professional
equipment
Hollywood standards are Hungarian standards now.
Everything you could ask for is ready and waiting for you here. Need a Russian arm, Libra Head, Grand track, Scorpio 45, cablecam system or the latest robotic motion control arms? No problem! Anything else? We're sure to have it.
Professional
crew
English-speaking professionals, trained on Hollywood productions. No matter how many productions are ongoing, whatever the time of year, we will always find enough expert crew to make sure your shooting in Hungary is handled professionally.
Directors
Assistant directors
Camera crew
Sound crew
Video playback
Grip
Electricians
Unit
SFX
VFX
Costume
Hair-make up
Props
Art departments
Location
Construction
Green screen
Health & safety
Armory
Stunts
Catering
Production
Transport
Get up to 30% tax rebate
on your production costs
Due to the increased amount of foreign productions in the last decade, Budapest has evolved into an exceptional production hub with a brilliant infrastructure, affordable locations and highly competent English-speaking cast and crew.
Hungary has introduced a simple and transparent tax incentive in 2003 to stimulate local film productions. The results speak for themselves, the overall spending on film productions have increased significantly and Hungary has become the second most popular shooting destina-tion in Europe after London.
Budapest is able to imitate the look and feel of major European cities – from Paris to Vienna, Moscow, London and even New York. There is also wide range of sound stages available of within an easy reach of the city with the largest studio space being 15.000 square meters.
Here you can find some more information: NFI – Hungary's Rebate system
MAX. 30% REBATE FOR:
FILMS ALL GENRE
FEATURE FILMS
ANIMATIONS
SERIES
EXCLUDING
VIOLENT MOVIES
COMMERCIALS
ADULT FILMS
Examples for a 1 000 000 Ft budget:
| | | | |
| --- | --- | --- | --- |
| HUNGARIAN SPEND | NON-HUNGARIAN SPEND | BASIS OF TAX REBATE * | 30% TAX REBATE |
| 1 000 000 | 0 | 1 000 000 | 300 000 |
| 800 000 | 200 000 | 1 000 000 | 300 000 |
| 600 000 | 400 000 | 750 000 | 225 000 |
| 200 000 | 800 000 | 250 000 | 75 000 |
* Maximum 1.25x of the Hungarian spend
… and last, but not least:
fun
In breaks between long days of filming, you – or maybe we together – can have a great time exploring the city. Choose from award-winning restaurants, Budapest's famous 'ruin bars', and other nightspots.
Have a soak in one of the city's many thermal baths, wander around the stunning Castle District, visit the zoo or the city's many museums and art galleries. In the winter, go skating at night in Europe's largest outdoor ice rink at the foot of the fairy-tale Vajdahunyad Castle in City Park. (In summer, the ice rink is transformed into a boating lake.)
The list of attractions is almost endless, and Budapest's layout makes it easy to explore on foot and using the city's excellent, cheap, and safe public transport system.